Shufeng Jiedu Capsules is a patented herbal medicine used for the treatment of upper respiratory disease and influenza.
2009-2020 Marketing authorization as prescription drug in China
since 2021 as OTC drug (China)
since 2020 as prescription drug in selected German pharmacies available
SFJDC is produced by Anhui Jiren Pharmaceutical Co., Ltd. For the Chinese Market
For the international Market SFJDC is produced in cooperation between Anhui Jiren Pharmaceutical Co., Ltd. (China) and ConPhyMed Pharmaceutical Co., Ltd. (Germany) in accordance to the European GMP requirements.
Production of SFJDC is audited annually by an German expert audit team to ensure a high quality production process
The quality control of the medicinal plants used for the production and the finished product is in accordance to the regulations of the Chinese and European Pharmacopoeia
The final quality control and certification of SFJDC is done in a German GMP certified laboratory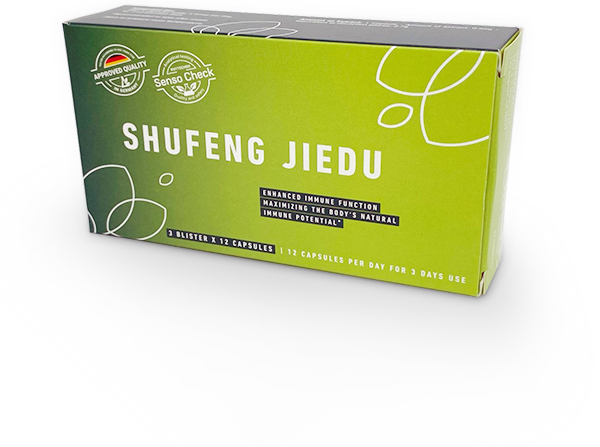 Shufeng Jiedu Capsules is one of the best studied herbal medicines in the world.
Phase 2-4 clinical trials and approximately 350 publications (basic research, cellular, animal and clinical studies) are available
Study results showed that Shufeng Jedu could be used for the treatment of:

Upper respiratory tract infection

Severe acute respiratory syndrome (SARS)

Middle East respiratory syndrome (MERS)

Chronic obstructive pulmonary disease

Shufeng Jiedu was recommended by the Chinese government in the treatment guideline for SARS and MERS.
Preclinical and clinical data demonstrate that SFJDC could also be used to treat COVID-19
The Chinese government has included SFJDC as one of 5 TCM drugs in its treatment recommendations for COVID-19
Except for a possible mild gastrointestinal irritation, the drug has few side effects and is safe to use for adults and children
Shufeng Jiedu is composed of 8 commonly used medicinal herbs.
Traditional Chinese Medicine often combines different medicinal plants with different effects in one formula. In contrast to Western medicine, where usually only one active ingredient is administered with a precise target, the combination of different active ingredients in TCM can influence several signaling pathways simultaneously and thus achieve a much more comprehensive effect.
The eight herbs in Shufeng Jiedu have all different pharmacological properties and if mixed together they have unique additive and synergistic effects which gives Shufeng Jiedu its exceptional clinical efficacy.