Shufeng Jiedu
Breath freely
Shufeng Jiedu Capsules is a patented herbal medicine used for the treatment of upper respiratory disease and influenza.
Shufeng Jiedu Capsules is a patented herbal medicine used for the treatment of upper respiratory disease and influenza.
It was named National Dominant Product. Top-10 Brands for Respiratory illness.
First- class Awards by China Association of Chinese Medicine.
In 2014. State intellectual Property Bureau granted it Golden Award of Chinese Patent.
In 2009 China Minis1ry selected it as the First-Choice Chinese Patent Medicine into Diagnosis and Treatment Regimen for influenza A (HIN 1 ).
For several times, it was named as the First-Choice Chinese: Patent Medicine by National Health and Family Planning Commission.
Read more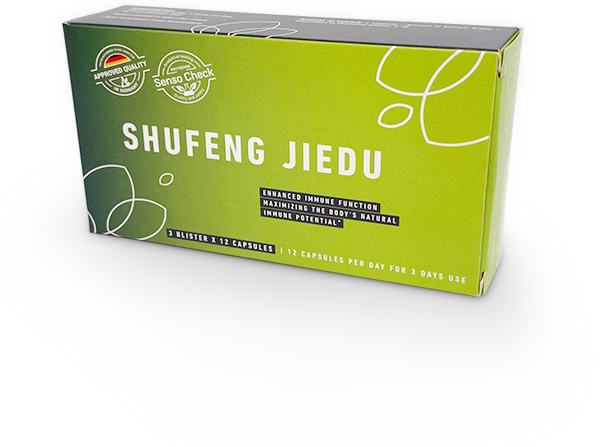 Shufeng Jiedu Capsules is one of the best studied herbal medicines in the world.
350 publications
Treatment of Common cold, Influenza, Respiratory syndromes, COVID-19, and many more
Shufeng Jiedu was recommended by the Chinese government
Safe to use for adults and children
More information on safety
Shufeng Jiedu is composed of 8 commonly used medicinal herbs.
More about the plants
Traditional Chinese Medicine often combines different medicinal plants with different effects in one formula. In contrast to Western medicine, where usually only one active ingredient is administered with a precise target, the combination of different active ingredients in TCM can influence several signaling pathways simultaneously and thus achieve a much more comprehensive effect.
The eight herbs in Shufeng Jiedu have all different pharmacological properties and if mixed together they have unique additive and synergistic effects which gives Shufeng Jiedu its exceptional clinical efficacy.
Clinical use in Children
Shufeng Jiedu Capsule has good clinical efficacy and extensive pharmacological effects. Its application has gradually extended from adult applications to pediatric applications.
It has many uses, especially because it is Anti-viral, Anti-bacterial, Antipyretic, Anti-inflammatory and can also be used for Sedation and analgesia.
Learn more
Patented and award winning technology
The patented Medicine Shufeng Jiedu is produced for the international market by Anhui Jiren Pharmaceutical Co.Ltd. in cooperation with its German-Chinese joint venture partner ConPhyMed pharmaceutical Co. Ltd. Based in Germany.
Quality and safety of the production are the top priority. For this reason, the cultivation of the medicinal plants used for Shufeng Jiedu is already strictly monitored and follows the rules of the Good Acriculture and Collection Practice (GACP).
Read more